Product Price :

Get Latest Price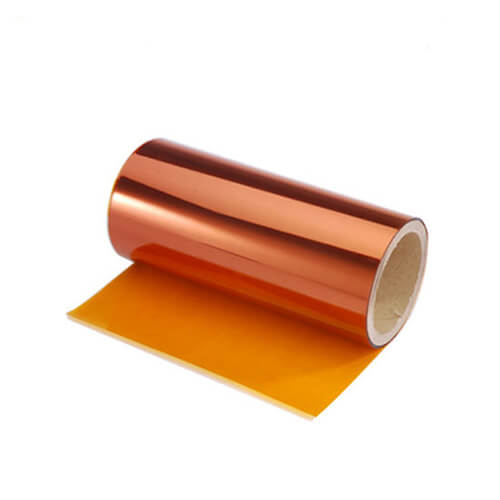 Polymide Film 6051 Introduction
6051 polyimide film or polyimide film sheet is one of the electrical insulation film. It is synthesized by polymerizing PMDA and ODA in strong polar solvents through the process of forming film and imines treatment at high temperatures. This insulation product has excellent mechanical capability, favorable electric insulation at temperatures as low as -452F(-269c) and as high as +752F(+400c). It can be used in compound insulation material, adhesive tape, electric wire, and motor industry, etc.
Insulation class: H (180℃)
Thickness: 0.05mm, 0.075mm, 0.1mm
Width: 1000mm or as request
Color: golden
Polymide Film 6051 Features
1.Good property of insulation and mechanism.
2.Good temperature resistant property, wide performance temperature range. It can be used under
temperature from -60 °C to +250 °C for a long period and -269 °C to +400 °C for a short period without changing its electrical and mechanic properties.
3.Good chemical stability. It resists most organic solvents.
4.Excellent flame retardant property
5.Good radian-resistant property
6.Can be combined with many other materials. When combined with fluorine resin, its
characters of wet and corrosion resistance are greatly improved.
Polyimide Film Sheet Applications
Used in flexible printed circuits and as insulating materials of flat electric cables, electromagnetic wires, and motors.
Polyimide Film Sheet Specifications
NO

Index Description

unit

index value

1

Density

g/cm3

1.38~1.43

2

Contraction rate,longitudinal and horizontal 150°c-400°c

%

<1.0
<3.0

3

Surface resistively, 200°c

Ω

>1.0*1013

4

volume resistively, 200°c

Ω.m

>1.0*1010

5

Relative Dielectric factor constant 48-62HZ

-

3.5±0.4

6

Media Loss Factor 48-60HZ

-

<4.0*10-3

7

Long-term Thermal Resistant

-

<4.0*10-3

8

Temprature Index

-

>180