Product Price :

Get Latest Price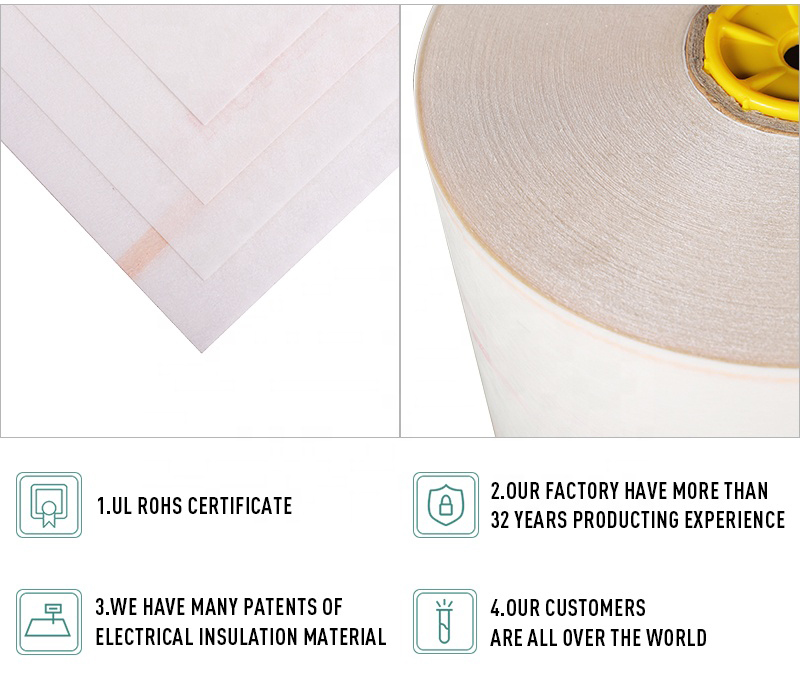 6640 NMN Insulation Paper Introduction

6640 NMN insulation paper or flexible insulation paper is a soft composite insulation material composed of two layers of aramid paper, one layer of polyester film, and two sides of Nomex paper. This insulation paper shows high thermal resistance, excellent mechanical properties like high tensile strength, and high edge tear resistance and electrical properties, it was designed for automatic insertion machine.
Thickness:0.15mm-0.4mm
Width:914 mm or customized
Color: White with orange line or yellow line
Insulation Class: class F (155℃)
6640 NMN Insulation Paper Features
1. Superior thermal properties and mechanical properties.
2. Tearing resistance as well as the excellent dielectric strength from polyester film.
6640 NMN Insulation Paper Applications
NMN is mainly used as a slot liner, slot closure, phase-to-phase, and turn-to-turn insulation in low or medium voltage electrical motors of Class F (155℃) or Class H (180℃) insulation system, also, it's also used as interlayer insulation in transformers and other electrical machines and appliances.
6640 NMN Insulation Paper Specifications
| | | | | | | | | | |
| --- | --- | --- | --- | --- | --- | --- | --- | --- | --- |
| THICKNESS mm | NMN 0.16 | NMN 0.18 | NMN 0.2 | NMN 0.24 | NMN 0.3 | NMN 0.35 | NMN 0.4 | NMN 0.47 | |
| Tensile Strength N/10 | MD | 170 | 202 | 234 | 273 | 335 | 403 | 454 | 476 |
| TD | 143 | 170 | 210 | 214 | 332 | 407 | 403 | 493 | |
| Elogation % | MD | 28 | 31 | 25 | 34 | 50 | 49 | 54 | 51 |
| TD | 4 | 52.6 | 40.31 | 46.12 | 81 | 64 | 73 | 87 | |
| Breakdown | | 12 | 13 | 15 | 16 | 17 | 18 | 22 | 24 |