Product Price :

Get Latest Price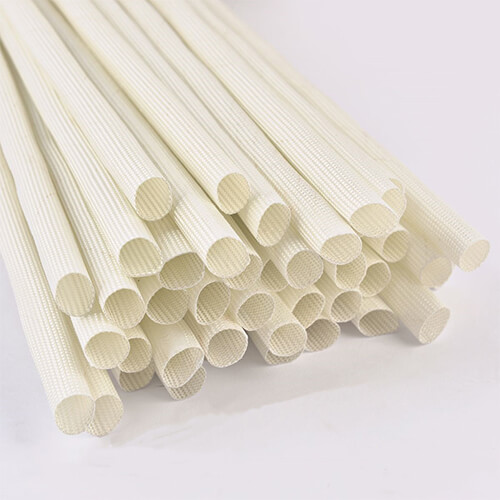 2753 Silicone Fiberglass Sleeving Introduction
2753 silicone fiberglass sleeving is one of fiberglass sleeve insulation. It is braided with non-alkali fiberglass yarn and then coated with silicone resin under high temperature. It possesses good properties of dielectric, heat resistance, self-extinguishing, softness, and elasticity, etc.
Diameter: 1mm - 30mm
Length: in one meter or in coils. 50m/100m for one coils, also can be accroding to your request
Insulation Class: class H (180℃)
Breakdown Voltage: 2.5kv, 4KV, 7KV
Color: white, black and natural. Other colors available upon request
2753 Silicone Fiberglass Sleeving Features
1. Impede heat radiation of flame
2. Protect operator from burning by hot pipe.
3. lumped heat lost and favor to saving energy.
4. Self- extinguishing
5. Moisture-proot, water-proof, resistant to oil
6. Standard brick red and blue, others on request
2753 Silicone Fiberglass Sleeving Applications
It's used for the wiring insulation and mechanical protection for H class motors, electrical appliances, electrical instruments, wireless sets, and domestic electrical appliances.
2753 Silicone Fiberglass Sleeving Specifications
Inner Diameter(mm)


Wall Thickness(mm)


Nominal


Tolerance


Nominal


Tolerance


0.5


±0.15


0.50


±0.15


1, 1.5, 2, 2.5


±0.20


0.50


± 0.15


3, 4, 5, 6


±0.25


8, 9, 10 ,12


±0.30


0.70


± 0.20


14,16,18,20


±0.50


0.70


±0.30


25


±0.60


1.0


±0.50


30


±0.60


1.5


±0.50
Q1: How about MOQ?
MOQ is according to different products. Whatever you need, we are glad to quote best price with good quality.
Q2: Can you send samples for testing?
500g Samples are free supplied, but express freight should be taken by client. After making order, we'd like to return freight back.
Q3: How can you guarantee the quality of mass goods is same as the sample sent to me before?
We kept another same sample and marked on company when we sent to customer. So our production will be based on.
Q4: Which package do you use?
Package is important part to avoid goods breaking in transportation. We will choose suitable packing depend on materials.
Q5: When customer respond quality issues after pick up goods, how to deal with?
1) Customer could supply photos of issued goods for our sales staff and then we'll verify which part is wrong.
2) If the issue is confirmed, company will negotiate with customers and compensate in coming orders.